Although the desert areas of Southwest New Mexico where I'm from has a certain beauty, not many places can compare to the Coast of Maine. The many 'fingers' on the Coast give us many gorgeous water views, lighthouses, picturesque coves where you often see artists with their easels capturing lobster boats, a rocky coast, Fall leaves. I will admit the winters were a bit harsh when we first moved to Maine, we quickly learned to enjoy our evenings by the fireplace.
Sometimes I like to pretend I'm a tourist again, as if seeing all this for the first time. Come with me on a photo tour of "Seasons in Maine"
Dr. Norman Medina's Photo Blog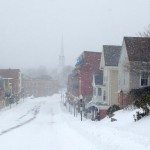 This gallery contains 29 photos.